Vision Therapy Success Stories: Maxwell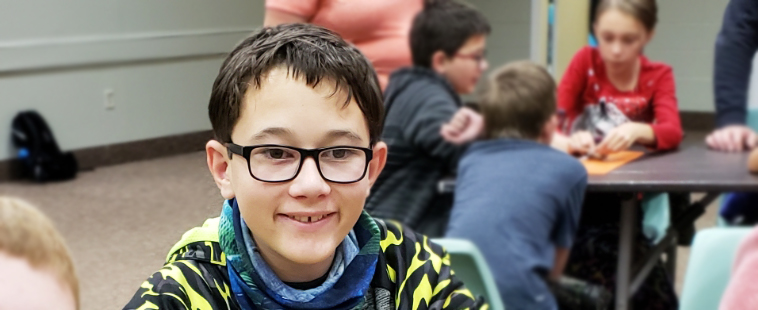 _________________________________
As part of our Vision Therapy Success Stories series, we interviewed April and Paul to share the story of their son, Maxwell. At age 3, Maxwell was diagnosed with Amblyopia, the medical term for lazy eye. Despite glasses and then atropine drops, Maxwell continued to experience difficulty in school and was falling behind. Maxwell, now 13 and an honor roll student, is recognizing great benefits from a vision therapy program under supervision of optometrist Dr. James Horning in Jacksonville, Florida.
_________________________________
"We were down to our last hope when we found vision therapy," Maxwell's father, Paul, shared in a choked voice. Maxwell, now 13 years old, has seen more than his fair share of struggles.
"Maxwell first saw our ophthalmologist when he was three years old and he was prescribed glasses for a slight lazy eye," said his mother, April. "But, when he was in Kindergarten, the teacher told us that Maxwell was not on grade level," she added. The glasses were not improving the lazy eye as expected and additional treatment was needed.
"It was about that time, when Maxell was five years old, that his ophthalmologist told us we had two options to treat lazy eye: patching or atropine drops," she said. Patching involves putting a covering over the stronger eye and atropine eye drops dilate and temporarily blur vision in the stronger eye. Both options are intended to force the weaker "lazy" eye to work.
The doctor said Maxwell needed to wear a patch 20 out of 24 hours a day.
"The doctor said Maxwell needed to wear a patch 20 out of 24 hours a day. I didn't want him to be teased for wearing an eye patch at school, so we chose the eye drops," April said. Maxwell did not complain about the eye drops and they continued the atropine treatment for one year. "The only problem was that he was barely passing school," she added.
By the time Maxwell was in 4th and 5th grades, the workload proved to be too much. "It took him ten times longer to do homework than it should have; we helped him for hours every day," April shared. She recalled watching him write on lined paper. "He couldn't write straight on the line. His words went way up or down on the paper."
On top of his vision related struggles, Maxwell also had a diagnosis of ADHD that needed re-evaluating. Maxwell's pediatrician suggested we have him evaluated by a child psychologist who specializes in ADHD. The psychologist did an assessment and referred us to Dr. Jim Horning, an optometrist in Jacksonville. She explained that she thought Maxwell had some additional undiagnosed vision problems that were hampering his performance in school.
"We were down to our last hope when we found vision therapy," Maxwell's father, Paul, shared in a choked voice.
"Dr. Horning did a more thorough examination, using equipment we'd never seen before; he said Maxwell had amblyopia (the medical term for lazy eye) and no depth perception. He explained that Maxwell's two eyes weren't talking to his brain at the same time," Paul shared. Maxwell was prescribed new glasses, bifocals that were to help keep his eyes aligned when doing any close work, and given an updated prescription for distance as well.
April said, "On the drive home after picking up his new glasses, Maxwell pointed out the window and asked me if that was what a road sign looked like. I was mortified! He had been under the care of our ophthalmologist since he was three years old and I felt so disappointed and misled."
Maxwell started vision therapy in Dr. Horning's office once a week and did exercises at home as well. "We noticed changes in Maxwell immediately. He went from a child who hated to read to reading everything he could find. All of a sudden, he is reading everything from road signs, notes on our refrigerator, to restaurant menus. I mean every single word on menus," April laughed.
The change in him was noticed by his teacher at school too. April shared, "I work at the school and one day his teacher excitedly told me Maxwell had raised his hand to volunteer to read in class. He had never done that before!"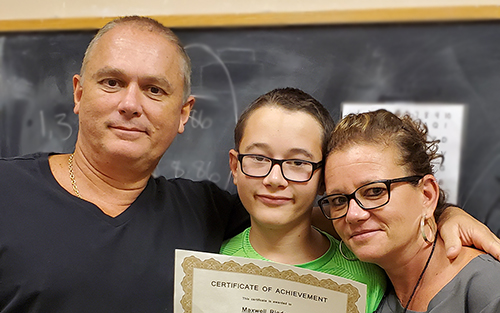 It's life-changing-- completely and totally life-changing
One of the biggest surprises was the improvement in his grades. He went from barely passing school to being on the honor roll for the last three quarters of 7th grade. He has discovered a love for golf, attending several camps and playing regularly.
Paul said, "It has been amazing to watch him in vision therapy from the basics of visual memory and ball-on-a-string exercises to Vivid Vision virtual reality games. He really looks forward to the virtual reality games, always asking if he beat his last level, if he improved. The Pepper Picker, Ring Runner, and Basketball games are his favorite." Maxwell will graduate vision therapy in a few short weeks. "It's life-changing-- completely and totally life-changing. I carry Dr. Horning's business cards in my wallet and hand them out to fellow parents," Paul said.
interviewed by Robin Benoit for Vivid Vision
You may also be interested in these blog posts:
_______________________________________
If you're a patient interested in Vivid Vision, use our doctor locator page to find a Vivid Vision provider near you!
Find a Provider
vision therapy
lazy eye
amblyopia
atropine drops
virtual reality
vision therapy florida
dr. horning
eye patching
success story
testimonial