Vivid Vision for Strabismus: A Patient's Review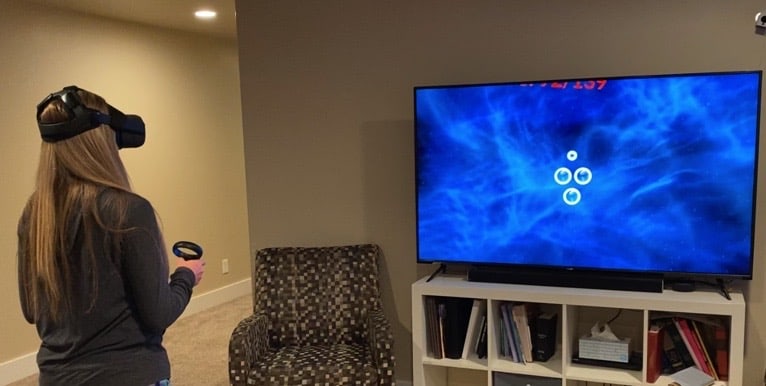 An Honest Review of Vivid Vision: a Strabismic's Perspective
Melissa is a 33-year-old teacher, mom, wife, and vision therapy patient who has been describing her vision therapy journey on her blog, Strabismus Solutions. Melissa was born with strabismus. She had a noticeable inward eye turn of one eye called esotropia. Her first strabismus surgery at six months of age. Because the surgery was unsuccessful, Melissa had two more surgeries as a child to correct the eye turn. Unfortunately, what resulted was a noticeable outward eye turn of the eye called consecutive exotropia. As an adult Melissa tried patching, glasses, vision therapy, and surgery to treat her eye turn and the problems it caused, such as lack of depth perception.
Melissa has done a few blog posts on her site about her experience using virtual reality as part of her optometrist-prescribed vision therapy program and, with her permission, we're sharing some of her feedback and experiences here.
________________________________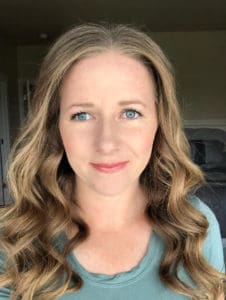 Hey! I'm Melissa, I want to share information about my strabismus journey with anyone that could benefit. I hope you enjoy my reviews and personal experiences of using Vivid Vision. I love vision therapy, especially virtual reality vision therapy. I currently use virtual reality both at home and in my optometrist's office. I have used both the Vivid Vision and Optics Trainer systems. You can read my side by side review of those systems on my blog.
What is Vivid Vision?
Basically, if your eyes aren't working well together, Vivid Vision is designed to help you. It is not a program that you can just go out and buy, you must go through a provider (an Optometrist or equivalent in your country) who can then manage your treatment. Vivid Vision is virtual reality software that treats conditions like amblyopia (lazy eye), strabismus (crossed eyes or squint), and convergence insufficiency. It also helps work on visual skills like visual spatial memory, visual figure ground, visual sequential memory, visual tracking, convergence, divergence, depth perception, peripheral vision, visual motor integration, laterality and directionality, form recognition, and more!
What Makes Vivid Vision Amazing?
First of all, the developer of Vivid Vision, James Blaha, actually had strabismus and designed it to help people who struggled like him. So cool!
I love the versatility of Vivid Vision! Every strabismus patient is so unique and needs a unique treatment plan. This program allows for such individualized solutions for complex visual issues. With all the different adjustments, it means Vivid Vision can work long term and grow with the patient as they improve.
I love that there is a huge variety of activities because it doesn't get boring. The games are pretty fun, and I actually find myself looking forward to playing them. Some games focus on fusion and depth perception, while others work to stop suppression and get both eyes working. Other skills like tracking, peripheral vision, multi-tasking, and hand eye coordination are also worked in the various games.
Not every game is a good fit for every patient so your eye doctor can change the order of the games and which ones come up for you.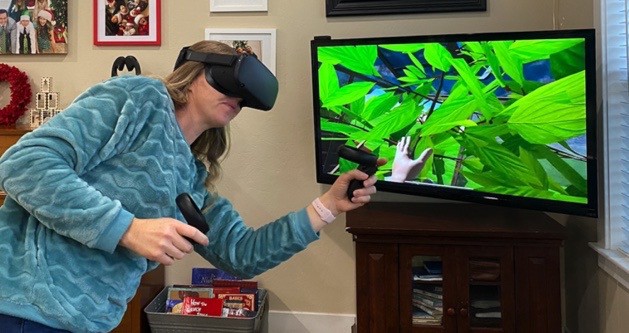 Here's my summary of what makes Vivid Vision amazing:
Huge variety of games- When you are doing home VR for weeks and months on end, having a variety makes it SO much better! I also love that each game focuses on different important visual skills that you can learn in different ways. Changing things up helps my brain to learn so much faster!

Versatility in adjustments for settings- I already went through this…but it makes a big difference. Versatility means that the program can grow and change with the patient. It is helpful for such a huge range of people!

Engaging- The environment feels so real and the graphics are great. So much attention was put to details. When the graphics are good, it is easier for my brain to put the images from both eyes together.

Backed by research. So many different studies have been done to show that Vivid Vision can improve depth perception and overall vision! It is much easier to feel good about investing money into something that is backed by science.

There are so many vision therapy exercises and tools that are only available in-office, and they are usually the ones that work the best. I LOVE that I can take one of the most effective vision therapy tools that I have used home with me and use it every day. I can easily take it on vacation as well.

If you live somewhere that doesn't offer vision therapy, you can do remote Vivid Vision and remote vision therapy sessions. I live in a remote part of Idaho and there isn't an office that offers vision therapy near by. I was able to go through Maryland Vision Therapy (

website

) for management of my Vivid Vision prescription. They are working with my local vision therapy office and me. Technology is the coolest.
What Are the Limitations of Vivid Vision?
Cost- The cost can vary depending on the clinic. Most clinics choose to include Vivid Vision as a part of an entire vision therapy program. In this case, you may not actually notice the cost because you will pay one lump sum for appointments and computer/VR programs. For me, since my office doesn't offer Vivid Vision, I had to take the option of doing it remotely through another office. I shopped around and was given pricing ranging from $700-$1200 for 3 months. Clinics can charge as much or as little as they want so do your research. I 100% believe that it is worth it. I believe that it will make the time that you spend doing vision therapy more effective so that you can finish earlier. Nothing about fixing strabismus is cheap though, so it's good to know going in.

There is no menu that allows you to pick the games you want to play, it is all pre-determined by your optometrist. This is probably a good thing, but I, personally, prefer to have a little more control.

Requires a doctor's prescription, probably also a good thing…but it would be nice to be able to continue doing Vivid Vision after I graduate from vision therapy without paying a fee to my optometrist.

This is not a one stop shop. This is true for any computer vision therapy program. They all vary in what they can cover, and honestly, Vivid Vision is more comprehensive than anything else I've tried. BUT there is no computer program that can replace real life experience and therapy involving the real world. It is important to understand that Vivid Vision is something that should be combined with regular in-office vision therapy, it is not a stand alone product.
My Personal Experience with Vivid Vision
As part of my vision therapy journey my optometrist and I discussed the option of surgery and I eventually decided to have another surgery to help me out and then return to vision therapy afterward.
The surgery threw my brain for a loop. My eye started to turn inward and my brain was not understanding how to use both eyes together. I was off balance and my peripheral vision was so messed up. Even though my eyes were looking so much better, I was frustrated because my vision was not good and I started reaching out for ideas and help.
I had multiple Optometrists and vision therapists reach out and say that Vivid Vision made a huge difference for their post-surgery strabismus patients. I was ready to try anything and finally took the plunge.
My local optometrist was not a Vivid Vision provider so I ended up finding an office across the country to manage my Vivid Vision and coordinate with my optometrist.
It has only been one month since I started Vivid Vision and I am amazed at the progress that I have made already. I have been dedicated and have done at least 30 minutes of Vivid Vision, but many times 45-60 minutes, every day. I miss maybe 1 day a week, tops. I also have been very dedicated to my other vision therapy exercises that are outside of virtual reality from my optometrist.
Here is a summary of some of my gains:
I have started being able to see with stereopsis in real life. If I slow down, relax, and open my peripheral vision, I can tell that things are gaining depth! It is happening more and more often and I love it.

I saw a stereogram at my ophthalmologist's office for the first time in my ENTIRE LIFE- This is huge people!

I have gone from needing the prism settings to do any virtual reality activities, to being quite successful with no prism.

I've gone from barely getting to 6 or 7 Base In demand (hard for esotropes) to getting to 25 (that was my new high this morning!)

I'm also seeing more space and my peripheral vision has improved so much. I haven't been feeling like I am "falling" or running into tables or doors near as often. My vision feels like it is back to where it was before surgery and maybe even better.
I can confidently recommend Vivid Vision to anyone with strabismus, amblyopia or any other binocular vision problems. It is an amazing, science backed, and fun virtual reality program that can take you far on your journey to improved vision!
How Does One Start Using Vivid Vision?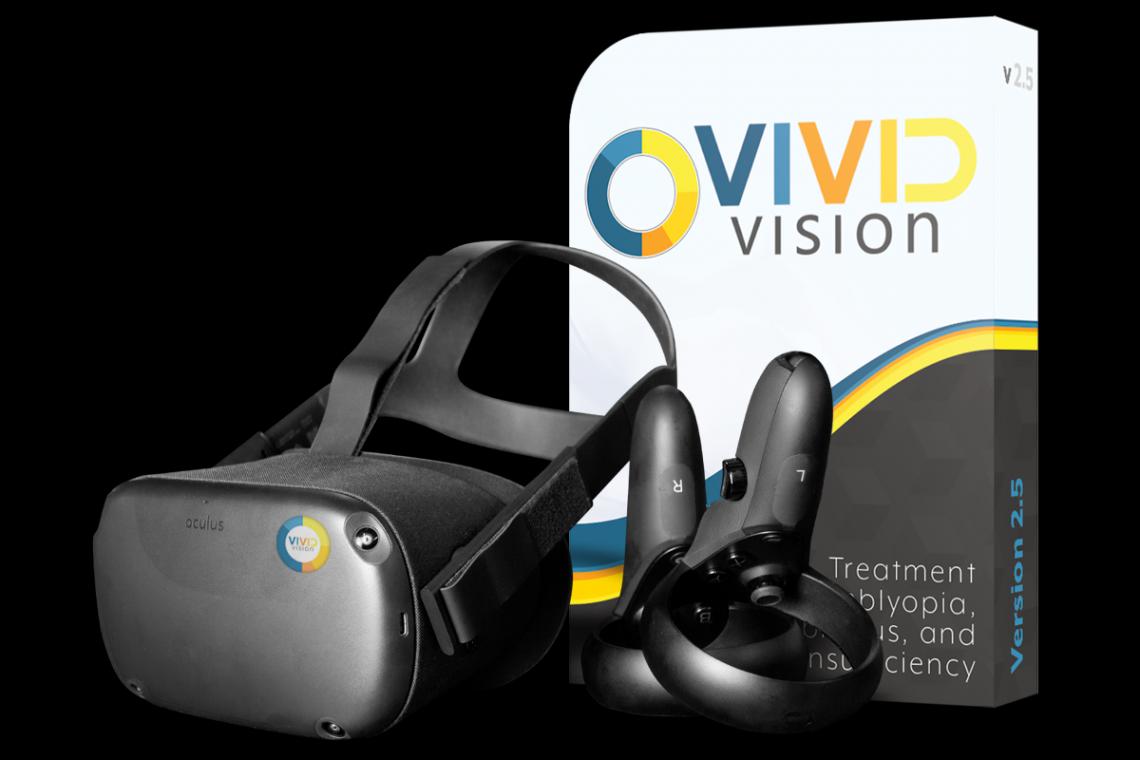 If you would like to try Vivid Vision, they have a super easy set up on their website to search for a provider near you, just click here to find a provider near you and they will get you started! They will find the Optometrist nearest that can manage your vision therapy and Vivid Vision subscription.
Read More:
You can read more about Melissa's vision therapy journey at her website - Strabismus Solutions. Here are some of her posts relating to Vivid Vision:
An Honest Review of Vivid Vision: a Strabismic's Perspective
Is Vivid Vision or Optics Trainer Better for Vision Therapy?
Read more about strabismus:
What is the difference between amblyopia and strabismus?
Or you can browse our collection of patient success stories:
Patient Success Stories: Betsy
Patient Success Stories: Emilia
Find a Provider
strabismus
vivid vision home
lazy eye
crossed eye
squint
stereopsis
depth perception
strabismus solutions
amblyopia